PUBLICATIONS
Social Justice Statements – Office for Social Justice (OSJ)
Each year the Bishops issue a major statement for the coming year on Social Justice Sunday (the last Sunday in September). Related materials are produced including ten step leaflets, prayer cards, liturgy notes, community education resources, powerpoints etc.
To order hard copies from previous years' Social Justice Statements, download an order form.
Or download a copy from the list below (from 2000 till now).
For word copies of earlier Statements contact us (a list of all Statements is available here).
2018-2019 |2017-2018 | 2016-2017 | 2015-2016 | 2014-2015
 2013-2014 | 2012-2013 | 2011-2012 | 2010 | 2009 | 2008
---
2020-2021: TO LIVE LIFE TO THE FULL                                                                                                      Mental Health in Australia Today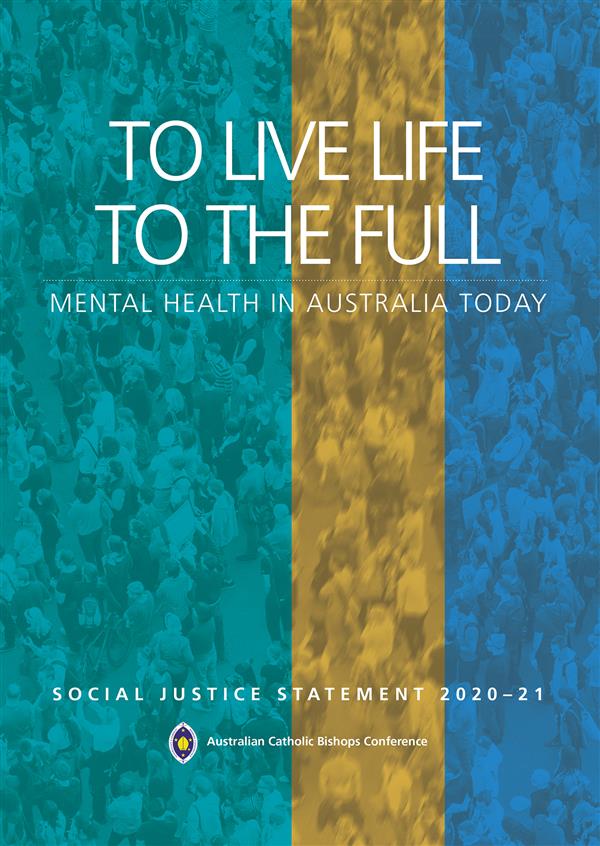 Download
Source: Social Justice Statements – Office for Social Justice (OSJ)
---
2019-2020: Making it Real                                                                                                                Genuine Human Encounter in Our Digital World

Order online here
Download
Source: Social Justice Statements – Office for Social Justice (OSJ)
---
2018-2019: A Place to Call Home

Making a Home for Everyone in Our Land
Order forms here
Download
Source: Social Justice Statements – Office for Social Justice (OSJ)
---
Perth launch of the 2017-18 Social Justice Statement:
The Perth Launch of the Australian Catholic Bishops Conference (ACBC) 'Social Justice Statement' took place on Thursday 21st September 2017 at the Newman Siena Centre in Doubleview.

The event was hosted by Carol Mitchell the Director of the Justice, Ecology and Development Office (JEDO).  Auxiliary Bishop Don Sproxton launched the 'Social Justice Statement' and Agency colleagues shared their experiences as well as what the 'statement' meant for them as a Catholic Agency and these included…

Damian Walsh – Director   –    The Shopfront
Vicky Burrows – Director   –    Aboriginal Catholic Ministry (ACM)
Cheryl Lennox-Bradley     –     ACM Council Member
Nigel Hayward                  –    Catholic Earthcare Australia (CEAWA)
Bronia Karniewicz            –    Director – Respect Life Office (Social Justice Prayer)

Aunty Marie Taylor –    Elder of the Wadjuk Peoples of the Nungar Nation                                                   (Welcome to Country)
---
2017-2018: Everyone's Business

Developing an inclusive and sustainable economy
Order forms here
Download
Letter from Archbishop Hart PDF
Liturgy Notes Word
Media Statement (Word)
Launch Addresses
Source: Social Justice Statements – Office for Social Justice (OSJ)
---

2016-17: "A Place at the Table:
Social justice in an ageing society"
Free to download:
 Source: Social Justice Statements – Office for Social Justice (OSJ)
---
 Perth launch of the 2015-16 Social Justice Statement:
---
2015-2016: For Those Who've Come Across the Seas: Justice for refugees and asylum seekers
Multimedia resources from other organisations: click here
Social Justice Statement abridged – Vietnamese translation: Word
Letter from Archbishop Hart PDF
Prayer card: here
Ten Steps: here
Powerpoint: PPTX
Media Alert: Word

Video

Launch addresses: