Australian Catholic Bishops Conference – Office for Justice, Ecology & Peace
Publications
Each year the Bishops issue a major statement for the coming year on Social Justice Sunday (the last Sunday in August). Related materials are produced including ten step leaflets, prayer cards, liturgy notes, community education resources, powerpoints etc.
To order hard copies from previous years' Social Justice Statements including word copies contact us.
Or download a copy from the list below (from 2000 till now).
 2021-2022 | 2020-2021 | 2019-2020
2018-2019 |2017-2018 | 2016-2017 | 2015-2016 | 2014-2015
 2013-2014 | 2012-2013 | 2011-2012 | 2010 | 2009 | 2008
2021-2022: CRY OF THE EARTH, CRY OF THE POOR
Social Justice Statement 2021-22

Download
SOCIAL JUSTICE STATEMENT
WATCH ONLINE LAUNCH
SOCIAL JUSTICE SUNDAY LITURGY NOTES
NEW! PRAYER SERVICES
VIDEO: BISHOPS REFLECTIONS WHAT DOES CREATION MEAN TO YOU?
PODCAST
ACTION CARD
PRAYER CARD: CRY OF THE EARTH, CRY OF THE POOR
PRAYER CARD: CREATION & THE TRINITY
PRAYER CARD: SACRAMENTALITY
PRAYER CARD: CONVERSION
PRAYER CARD: WONDER & AWE
SOWERS OF HOPE RECORDING
LAUDATO SI' GOALS ACTION PLATFORM
2020-2021: TO LIVE LIFE TO THE FULL – Mental Health in Australia Today
Social Justice Statement 2020-21 – Catholic Diocese of Broken Bay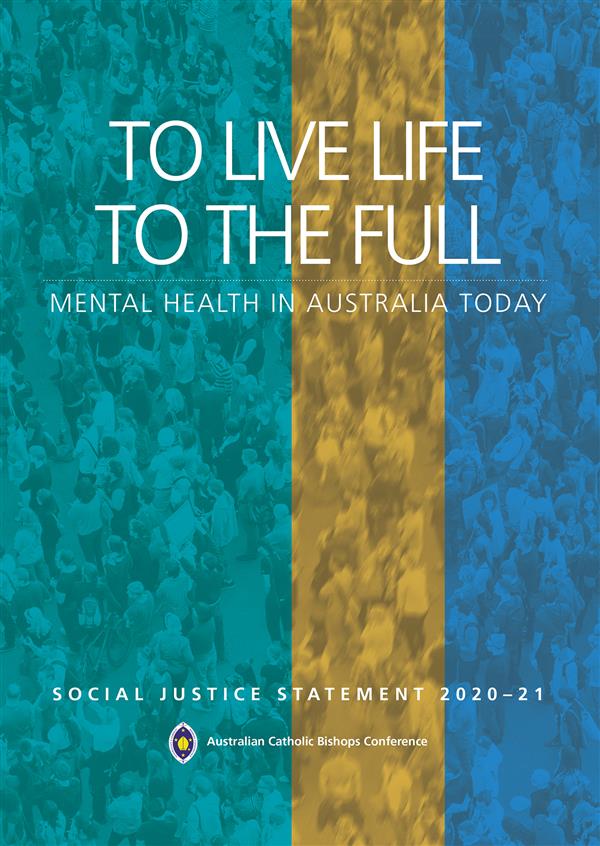 Download
Social Justice Statement 2020-21 PDF
SJS Summary PDF
Prayer Card PDF
Liturgy Notes PDF
Video
Podcasts
Source: Social Justice Statements – Office for Social Justice (OSJ)
2019-2020: MAKING IT REAL – Genuine Human Encounter in Our Digital World
Social Justice Statement 2019-20
Download
Social Justice Statement 2019-20 PDF
SJS Summary PDF
Prayer Card PDF
Community Education Notes PDF
Action Leaflet
Launch Addresses
Source: Social Justice Statements – Office for Social Justice (OSJ)
2018-2019: A PLACE TO CALL HOME – Making a Home for Everyone in Our Land
Social Justice Statement 2018-19
Download
Social Justice Statement 2018-19 PDF
Prayer Card PDF
Community Education Notes PDF
Action Leaflet
Education Resource
Source: Social Justice Statements – Office for Social Justice (OSJ)
2017-2018: EVERYONE'S BUSINESS – Developing an Inclusive and Sustainable Economy
Social Justice Statement 2017-18
Download
Social Justice Statement 2017-18 PDF
Prayer Card PDF
Community Education Resource PDF
Action Leaflet
Source: Social Justice Statements – Office for Social Justice (OSJ)
2016-2017: A PLACE AT THE TABLE – Social Justice in an Ageing Society
Social Justice Statement 2016-17
Download
Social Justice Statement 2016-17 PDF
Prayer Card PDF
Community Education Resource PDF
Action Leaflet
Source: Social Justice Statements – Office for Social Justice (OSJ)
2015-2016: FOR THOSE WHO COME ACROSS THE SEAS – Justice for Refugees and Asylum Seekers
Social Justice Statement 2015-16
Download
Social Justice Statement 2015-16 PDF
Prayer Card PDF
Community Education Resource PDF
Action Leaflet
Source: Social Justice Statements – Office for Social Justice (OSJ)
2014-15: A CROWN FOR AUSTRALIA – Striving for the Best in Our Sporting Nation
Social Justice Statement 2014-15
Download
Social Justice Statement 2014-15 PDF
Prayer Card PDF
Community Education Resource PDF
Action Leaflet
Source: Social Justice Statements – Office for Social Justice (OSJ)